Announcing confirmed
2017 Summer Series Dates
Santa Fe Welcome Week July 26-30, Santa Fe Fiesta Week August 2-6,
Grand Prix de Santa Fe August 9-13
Want to stay informed? Sign up for updates here.
Welcome to Hipico Santa Fe
THANK YOU to all who attended our Fall Community Show!
We had such a blast! Read more about it here or visit Media & News to see results and pictures from the weekend.   To learn more about HIPICO Santa Fe Community Shows visit the HIPICO Events Calendar.
HIPICO SANTA FE: BECOME ENCHANTED
HIPICO Santa Fe is a world-class equestrian facility located in one of the most enchanting destinations in the United States: Santa Fe, New Mexico. HIPICO Santa Fe is available to host local, national and international equestrian competitions and other types of events year round. HIPICO is home to the Santa Fe Summer Series, the Charity Grand Prix de Santa Fe, the Rancho Corazon at Santa Fe Training Facility, the New Mexico Center for Therapeutic Riding, and HIPICO Santa Fe Community Shows.
Become part of the HIPICO Santa Fe Family through Sponsorship of our magical summer series. Together, we can ensure HIPICO Santa Fe continues the dream of bringing top local, national & international hunter/jumper competition to the Southwest. Click here to learn more.
The Santa Fe Summer Series: THE BEST PARTY IN HORSE SHOWING
Experience A-rated equestrian competition with southwest sunshine and warm hospitality in Santa Fe, New Mexico! Premier hunter/jumper competition with a southwestern flair! Jump the Southwest!
Thank you to all our Sponsors, Exhibitors, Vendors, Spectators and Staff who made the 2016 Santa Fe Summer Series such a huge success!
Join us in 2017 for our National A-Rated Santa Fe Summer Series, 3 weeks of international hunter/jumper competition featuring:
World-Class Footing, Our Beautiful Venue, Incredible Art, Live Music, Unique VIP Experience, Welcoming Exhibitors Parties, and Wiener Dog Races! More Classes, more Prize Money, more HIPICO VIP Lounge parties, more VENDORS and more ART at our Art of the Horse Fine Art show!
FREE ADMISSION, COMPETITION STARTS 8AM EVERY WEDNESDAY – SUNDAY!
Top Competition with the highest jumps starts at 12PM on weekends. Beer and wine, food trucks and shaded viewing available.  For more visitor information click here.  For VIP day passes, tickets will be available online here.
View 2016 class results online at www.horseshowsonline.com. To see results search location 'Santa Fe' to bring up all HIPICO show weeks or select the week of the Santa Fe Summer Series from the list below. Search the 'Class Results' tab at the top of the page with class name or number for class results:
DREAMING OF SUMMER IN SANTA FE?
Watch highlights from our 2015 Summer Series!
WHAT PEOPLE ARE SAYING
"The recent Mark Martens Clinic gave me the opportunity to actually test the new footing at HIPICO Santa Fe. It gave us a lot of confidence and it's apparent how much work and investment has been put into the site. We are excited for the new hunter rings and the arena layouts. The new footing blend held up great through all the riding – it's tighter, firmer, and really supported the horses."
— Meredith Houx Remiger, Owner/ Trainer, Sandia Farm
"I can honestly say it has been a long time since I have been to a horse show with such a wonderful ambiance. There is a real hometown feel and the crowd is great. Horses really respond to their environment. A good crowd teaches us all to be competitors."
–Canadian John Pearce, Exhibitor, Winner of the 2015 Grand Prix de Santa Fe
"My concerns from last year are gone. The new footing is very elastic and HIPICO SF is on its way to developing world-class footing. I approve — and the horses like it too. I know this because they jumped so well."
— Bruno Diniz Das Neves, Owner, BDN Sporthorses
"The Santa Fe Summer Experience has been an amazing experience for the brand Kastel Denmark. It is clear that the management team shares our passion, expertise, and devotion to horse sports. I will certainly be back next year and look forward to the opportunity to work with the entire team.  This is one of the nicest horse shows I've attended in North America in a very long time. We appreciate the opportunity to sponsor such a quality equestrian event."
–Susan Benson, Marketing Director for Kastel Denmark
Physical Address

100 South Polo Dr.
Santa Fe, New Mexico 87507
1.505.474.0999

Mailing Address

PO BOX 5353
Santa Fe, New Mexico 87502
---
hunter/jumper show and general information
interested in working at Hipico?
Sign Up For Our Newsletter
We'll use this to keep you informed about HIPICO Santa Fe events and news.
 
Thanks

to our Summer Series Sponsors!
---
TURQUOISE SPONSORS
---
Friends of HIPICO Santa Fe
---
Event Management Provided by Sparrowhawk. Turn your Event into a Legacy.
HIPICO Santa Fe
Saturday, October 22nd, 2016 at 10:38am
I'm a horseaddict
Richard Spooner & Incento, AMAZING! Perfect example that you just have to trust your horse! "Incento left a stride out to the first element of the triple combination—a triple bar—and nose dived. Spooner, though, stayed in the back seat, let go of the reins, and kept riding. Incento picked himself up, took a stride and jumped the next two elements of the triple while Spooner sat in the middle with no reins and his arms out to the side." "It was my mistake that caused the problem," recalled Spooner. "After that I was trying to be out of his way and let him find his way. I didn't want to upset the apple cart. He was busy fighting for both of our survival." "Unfortunately I've had a lot of things happen to me this one just happens to be on video," he continued. "I hate to say that practice makes perfect, but I'd had a lot of things like this happen before."

Saturday, October 15th, 2016 at 1:35am
The Aspen Vista Trail is a favorite for pets and their people! #newmexicotrue
"It's fall, y'all!" 📷: @roxie_and_rosie 📷: @santafecounty https://t.co/JvIUscbE6u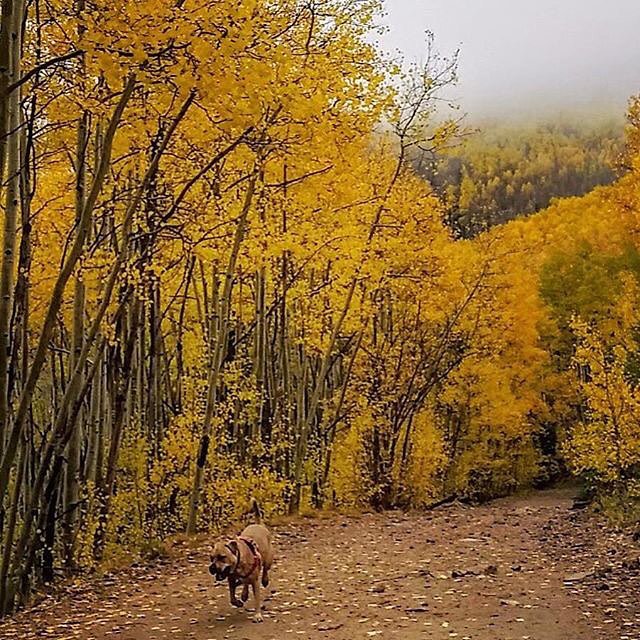 Tuesday, October 4th, 2016 at 8:51am
RT @CityofSantaFe: Five Activities to Enjoy in Santa Fe This November https://t.co/ioRP1a0AB9 Read our #NewBlogPost! #SantaFeNM #TheCityDif…